Start Your Child Today In Kids Martial Arts!
NOW OPEN!
We are constantly striving to comply and exceed the requirements set forth to operate safely during the COVID-19 pandemic.
COME SEE US TODAY!
At Powell Martial Arts, we believe there is no age too young to benefit from Taekwondo. We start training as young as 3 years old to instill things like balance, coordination, and agility during the most formative years of your child's life. We welcome families from all over Powell, Dublin, and Lewis Center to come participate in one of our Little Dragons or Little Tigers classes today!
Fill out the short form on your screen to learn more!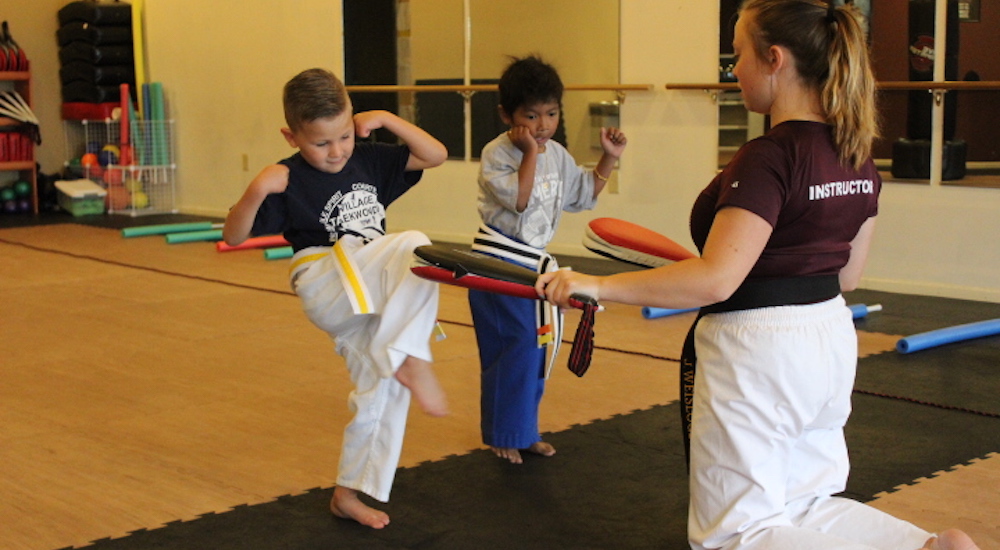 What Can Taekwondo Do For My Child?
Training in the martial arts from an early age instills self-confidence and a willingness to try hard alongside physical benefits like agility and balance. We use games and other fun activities to help develop coordination and to help teach good sportsmanship. As your child learns more about the fundamentals of Taekwondo, you'll find that they will show more self-control and restraint in difficult situations. They'll also be less likely to bully others or to be bullied!
Little Tigers & Little Dragons can teach your child:
Sustainable methods of physical fitness to keep them healthy as they grow
Effective techniques of self-defense that will also increase their self-esteem
Patience through perseverance and hard work
Lessons with respect for themselves and others
Who Belongs In Little Tigers & Little Dragons?
Our Little Tigers & Little Dragons programs are designed to help 3, 4, and 5-year-old students develop physically and socially. The skills they learn in Little Tigers & Little Dragons will help them improve the focus they need for school and the focus they will need when they move up to the Juniors program. We test every 2 months for new ranks within the Kids' program. Based on their age or maturity, we may decide to move them into the Juniors' program when they are 6 or when they have earned their Little Dragon Red Belt.
Powell Martial Arts Kids' Taekwondo offers:
A welcoming environment for kids of all skill levels to take up Taekwondo
New friends and mentors from all backgrounds
Heightened attention and focus in all situations
Fun for the whole family as your child finds their love for the martial arts!
Enroll Your Child Now For A Taekwondo Experience They'll Always Remember
Children who start training in the martial arts at a young age are found to be more respectful of their elders and their peers. Here at Powell Martial Arts, we're dedicated to sharing exemplary Taekwondo instruction with our neighbors in Powell, Dublin, and Lewis Center. Family is the highest priority and we can't wait to invite you into ours!
Fill out the short form on your screen to learn more today!